---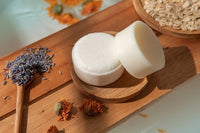 Our Dreamy Oats Chamomile Shampoo Bar is packed with calendula extract, olive oil, and colloidal oats that moisturizes drier scalps, with the sweet-smelling dreamy blend of Lavender, Chamomile, and Musk. No added colorants and as with all our shampoo bars, definitely sulfate-free. 
Our Chamomile Conditioner Bar is vegan and made especially for thick, coarse, and frizzy hair. Rich with almond butter and cocoa butter, this is a luxurious bar that adds slip and manageability to hair upon contact.
STORAGE:
Keep the bar dry after every use. Store upright on a soap dish with drainage to keep it solid. Or let dry upright on the cover of the tin can. Air dry is best! Do not leave in water.
Shampoo Bar Size: Approx. 75g
Conditioner Bar Size: Approx. 60-65g